Japanese Garden: Keishu-En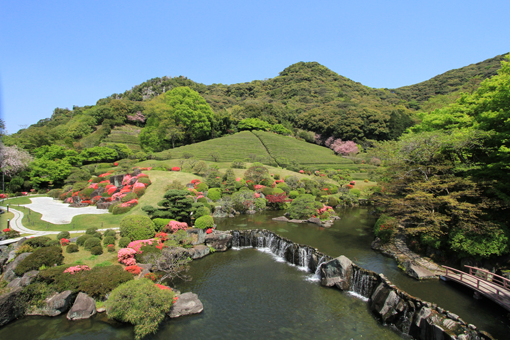 Keishu-En is a Japanese Chisen-kaiyushiki-teien style (*2) (a free-flowing style garden surrounded by a big pond) Garden designed by Kinsaku Nakane (*1), known as one of the most gifted garden designers in history.
Water that falls from Rock arrangement, which resemblance the style during the medieval times, and Tea Plantation are impressively located. They perfectly harmonize with symbolic Borrowed Landscape(*3) of Takeo City, Mt. Mifune.br
Mr. Kinsaku Nakane did his best to create this harmony. This is one of the main features of Keishu-En. In any of the four seasons, you can enjoy your stroll feeling the beauty of that season.
Major Works of Mr. Kinsaku Nakane
1972, Adachi Museum (Shimane Prefecture, Japan)
1979-80, Keishu-En (Saga Prefecture, Japan)
1984, Oohori Park Japanese Garden (Fukuoka Prefecture, Japan)
1986, Jimmy Carter Presidential Center Garden (Atlanta , Georgia , U.S.A.)
1988, Museum of Fine Arts, Boston (Massachusetts, U.S.A.)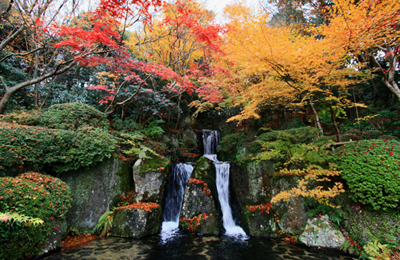 *1

Kinsaku Nakane(1917 - 1995)
Born in Iwata, Shizuoka in August 1917.
After graduating from Tokyo Academy of Landscape Gardening (Current Landscape Gardening Faculty of Tokyo University of Agriculture), he studied antique garden of Kyoto and fixed many of them. Later, he designed nearly 200 famous gardens in and outside Japan.
He served as President of Osaka University of Art.

*2

Chisen-kaiyushiki-teien style Japanese Garden
A Gardening Style that has a big pond at the center and walking paths around the pond
A Japanese Gardening Style

*3

Borrowed Landscape
A Gardening Technique Style which makes use of the surrounding landscape as a part of the design of a garden
One of the Japanese Gardening Styles
The Four Seasons' view of Keishu-En
Spring
Various Colored azaleas beautifully decorate the Garden...
The view of Weeping Cherry trees, swaging their branches amid a spring breeze, is one main feature of this season

Summer
Take a stroll under bright sunshine surrounded by cicada chirps...
You can also enjoy pleasant sound of Water running through the rocks

Autumn
Maple leaves colored red and yellow, shine in the sun bringing nostalgia to visitors...
White and lovely flowers bloom on tea plants, and color the autumn scene of the Garden

Winter
Garden covered with fallen leaves seems like Nature's Sketch...
Winter might be the very best season to feel the real beauty of Keishu-En
園内地図
With click, you can see photos of actual sceneries.